Overview
The Product Design team is a part of Ryanair's Digital Experience department, tasked with translating user and business needs into tangible solutions across our digital portfolio. 
We are continuously supporting multi-platform releases and it's vital that we ensure the highest level of UX coherence and visual consistency.
We are building the Design System to close the gaps between teams and optimise our design process. The project supports web and mobile platforms and has significantly improved design consistency and efficiency.
My Role
I was responsible for evaluating the existing design system, identifying gaps, planning and executing improvements.
Working with various teams across design, product and engineering, I was hands-on responsible for delivering the project's roadmap. 
This included defining processes, producing documentation (guidelines), design libraries and supporting development of tokens.
We are the 5th biggest airline in the world. How do we ensure design coherence across multiple digital platforms?
Ryanair carried over 152 million passengers in 2019. Majority of them booked their trips using one of our platforms: web or mobile. 
The continuous challenge for the Product Design team is to maintain a consistent design and experience ecosystem across our digital portfolio while being aligned between multiple product teams working across three different locations.
Adapting Design Thinking as my process framework.
Most companies adapt well-established processes to suit their needs and business objectives.
My go to process is based on Design Thinking and its principles.
I adapted it also for this project. 
The main goal was to deliver tangible improvements for the product teams but also for our customers.
Who and how is using (or is going to use) the Design System?
We started the project by identifying who is using or is going to use our design system (i.e. who are the users). 
First step was to speak with various team leads to better understand how this project can improve their teams' ways of working and their needs for the project. 
Next, we proceeded with finding the users' pain points within the current Design System. I scheduled a number of in-person interviews and launched online surveys to gather feedback from teams across all our locations.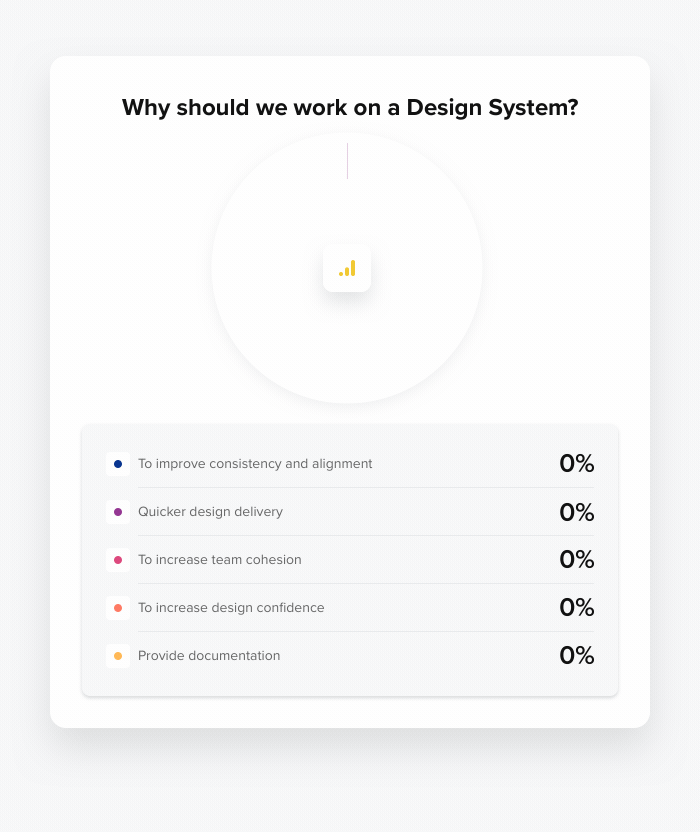 Cross-check assumptions and understand what
the real problems are.
I audited the current Design System against my research outcomes. The audit helped me to define the current gaps and opportunities
to improve. 
Together with the team leads, we created a list of the actionable gaps divided into milestones. Every gap had an explanation of how we will close it and what the success looks like. 
Throughout the entire process, I shared regular updates with the stakeholders to keep them aligned with my progress.
We identified four core gaps within the existing Design System:
Based on the research findings, how do we deliver tangible improvements with scale in mind?  
One of the goals for the project was to be easily scalable and maintainable within the team. 
We started with the process guidelines for anyone looking to contribute to the design system. 
Next, we defined deliverables structured around Atomic Design and shaped the project roadmap.
Bringing the project to life with guidelines, libraries
and cross-team collaboration.
The roadmap started with defining processes that we can apply throughout the project delivery.
For documentation, we selected
ZeroHeight
, mostly for its brilliant integration with Sketch and very proactive support (thanks ZeroHeight!).
Next, we worked through the existing Sketch libraries and updated relevant symbols. We reflected the libraries in
Zeplin
as part of our development handover process.
After every milestone, I shared the outcome with our senior management to emphasise the value of the project. 
Validating deliverables and continuous improvements post release.
After every update to the Design System I proactively gathered feedback from the teams and reflected it in our project backlog. 
This way, we ensured that the most important items can be prioritised and worked on almost instantly. 
First tangible improvement was the delivery of comprehensive libraries that significantly eased out design delivery.
What have we achieved
and what value did we bring?
Within 7 months, we had delivered a number of significant improvements to our ways of working and established a process for further scaling the Design System at Ryanair.
We increased consistency between teams and reduced delivery time. Long term, the project will enable design teams to optimise their workload and time to drive even more user-centred solutions.

From day one we knew it's going to be a complex project with a number of variables (delays)… and unforeseen circumstances.
Below is a list of items that impacted us the most during the project lifecycle and should be considered moving forward: